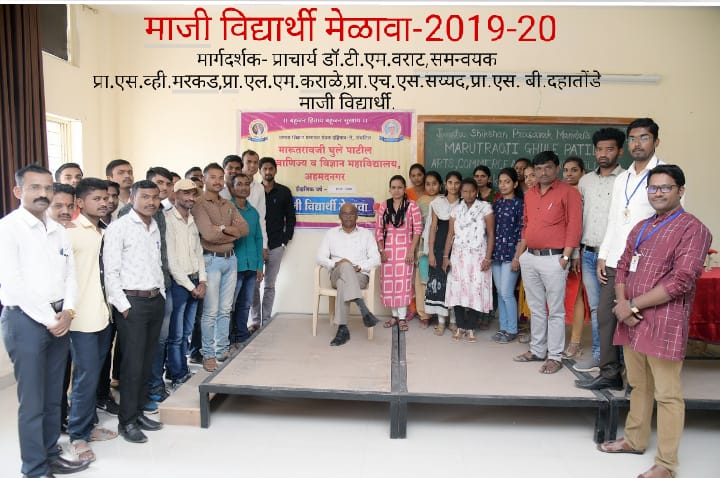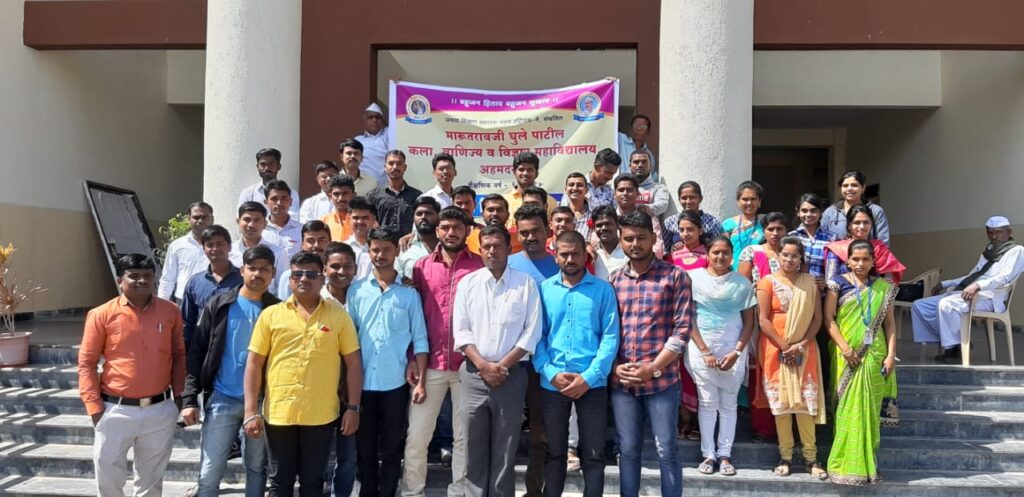 Under the competent leadership of Principal Dr. T. M. Varat, the institution constituted its Alumni Association and duly got it registered. The institution received the official registration certificate vide letter no. Maharashtra221/2019 Ahmednagar Marutraoji Ghule Patil College of Arts, Commerce and Science Alumni Association Bolhegaon, Ahmednagar from the Assistant Registrar Ahmednagar on Thursday 7th 2019.
Alumni Association President
– Mr. Mahendra Dhamne, Vice President – Mr. Sujit Thombre, Secretary – Prof. SV Markad, Treasurer – Prof. BS Pavle, Member – Mr. Amol Pawar, Member – Ms. Vaishali Wakchaure, Member – Mr. Rakesh Wagh, Member – Kishore Dhotre, Member – Dethe Swapnil
Alumni Meet
The association considers alumni as motivators and guides to their junior friends in the college, therefore it brings back the alumni to their alma mater to express their views, experiences and ideas to their juniors which may become helpful to them to decide their careers in future. It also provides opportunity to the alumni to cherish their college memories and make them feel like homecoming.
A platform has also been set up in the college through the Alumni Association to impart quality education along with competent, self-reliant and responsible employment. Under the chairmanship of Prin. Dr. T. M. Vatat, the president of this association, Shri. Mahendra Dhamne and the secretary, Asst. Prof. S. V. Markad organized two Alumni Meets in the academic year 2019-20.
Campus Interviews for Alumni

In the academic year 2019-2020, two campus interviews were conducted alongwith the Alumni Meet.
On 7th July 2019, Daily Income. C.I.C conducted interviews for the posts of sales officers at iBank. Alumni from all branches were called for the interviews. 72 alumni were present. Raju Gohar, Branch Manager of the campus interview and Mr. Hershal Kudale selected 9 students through online examination and interview. Dr. Narendra Ghule Patil, President of the Society, Hon. MLA Chandrasekhar Ghule Patil, Zilla Parishad President Hon'ble Mrs. Rajshritai Ghule Patil Ghule, Panchayat Samiti Chairperson Dr.Kshitij Ghule Patil, Administrative Officer Shri K.Y.Najan, Principal Dr. T. M. Varat and Head of Alumni Association Asst. Prof. S .V. Markad felicitated and congratulated the selected students.
Campus interviews for Axis Bank (Business Development Executive) and Sales Officer were conducted on 27th January, 2020. A large number of students attended the interviews. Eleven students were selected from interview through the computer test and main test. Similarly, all the third year students in all the branches were welcomed in the alumni team with roses.